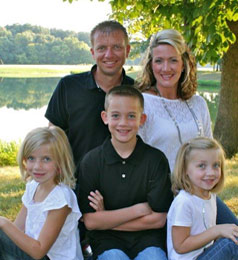 In 2003, Mark Probst decided to follow his dreams and open his own body shop repair business. With the help and support of his wife Christina, Probst Auto Body was founded. What started out as a 1-man operation has grown to become one of the latest and up-to-date facilities in the area.
Probst Auto Body is currently located along Route 33 in Dieterich, Illinois. Their brand new 6400 square feet facility consists of a very nice office area, a clean and open work area and 2 downdraft paint booths. This, along with their equipment, allows them to quickly and efficiently repair customer's vehicles in a timely manner. With their Spies Hecker paint system, Probst Auto Body gives every vehicle a show car quality finish backed by their limited lifetime warranty.
Mark attributes their growth to their outstanding customer service. In today's market, quality is expected, but what isn't expected is going above and beyond. Sometimes it may be that extra dent we fix or the fact we thoroughly clean every car we repair. Another very important factor to their growth is their continuing education. With today's cars continuing education is a must for a proper and safe repair. So remember if you should need our services we are here to serve you.